Masters in Biology of Infectious Diseases (In redesign)


The Masters in Biology of Infectious Diseases program aims to promote the improvement of the quality of life of the Ecuadorian population through scientific and technological development that will contribute to the preparation of professionals capable of carrying out research in Infectious Diseases. The program provides trainees with the knowledge and skills necessary to efficiently approach the serious problems of infectious diseases.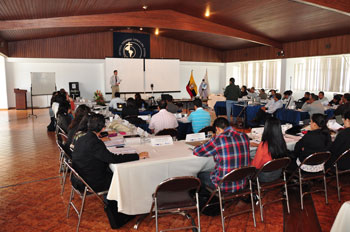 Graduates can be part of research groups in the public sector, higher education institutions and private businesses such as those within the pharmaceutical industry. It is expected that their professional training promotes their scientific development, in order to be active players in the fight against infectious diseases in the country.
Graduates of the program are able to
Design and perform molecular and immunology experiments.
Acquire and analyze data with geographic information systems.
Create protocols with international standards to do research with laboratory animals and humans.
Interpret and synthesize results, and disseminate them through indexed scientific publications.
Design research activities about infectious agents, vectors, reservoirs and their interaction with humans; diagnostics methods; vaccines; epidemiology and more.
Generate basic knowledge to recommend strategies aimed at solving the serious problems caused by infectious agents in Ecuador.
Demonstrate a high degree of commitment to national and regional development.
Keep knowledge updated, with capacity for critical analysis.
The Master in Biology of Infectious Diseases program started in 2015. The first students of the Masters have already graduated, and several are currently doing internships abroad, which demonstrates the success of the program.


If you wish to take part in our programs, you can contact us via email at
ciseal@puce.edu.ec