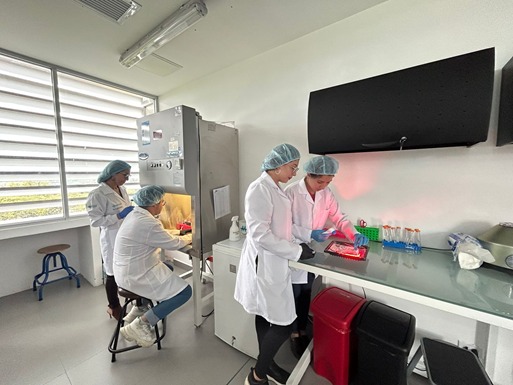 In the facilities of the Center for Research in Nanotechnology and Photonic Therapies (CiSeAL), an exciting collaboration is taking place between the Research Laboratory of Cytogenetics and Biomolecules of Amphibians (LICBA) of PUCE and the students and professors from the Masters in Materials program at the National Polytechnic School (EPN). This joint study is shedding light on innovative alternatives in cancer treatment, led by the renowned Dr. Paulina Romero, a faculty member of the Materials Department at the Faculty of Mechanical Engineering at EPN.
The cutting-edge approaches of this project are based on the application of graphene-derived nano-antitumor agents, combined with photonic techniques such as "Photodynamic Therapy" and "Photothermal Therapy." Dr. Romero and her team are thoroughly investigating these options to challenge the status quo of cancer treatment and provide new hope for patients and healthcare professionals.
LICBA at CiSeAL is the epicenter of these groundbreaking studies. Focusing on the diversity and applicability of amphibian biomolecules, this collaboration is unlocking a potentially revolutionary source of bio-medically useful molecules. These organisms offer a diverse range of compounds that could address pressing public health issues, including bacterial resistance, parasitic diseases, and, of course, cancer.
Since its inception in 2016, CiSeAL has stood out for the quality and depth of its studies. This particular collaboration with LICBA and the Master's in Materials program at EPN is just an example of CiSeAL's ongoing dedication to driving cutting-edge research and promoting scientific solutions to fundamental medical challenges.
Research at CiSeAL has resulted in multiple publications highlighting the advancements and discoveries achieved by our researchers. These studies have contributed new perspectives and approaches in various areas, solidifying CiSeAL's position as a frontrunner in scientific research and medical innovation. As the project continues to progress, CiSeAL and its collaborators remain committed to the tireless pursuit of answers and solutions. This is just the beginning of a series of initiatives that could revolutionize how we address the most pressing medical challenges in our society.

*Photo Source: EPN