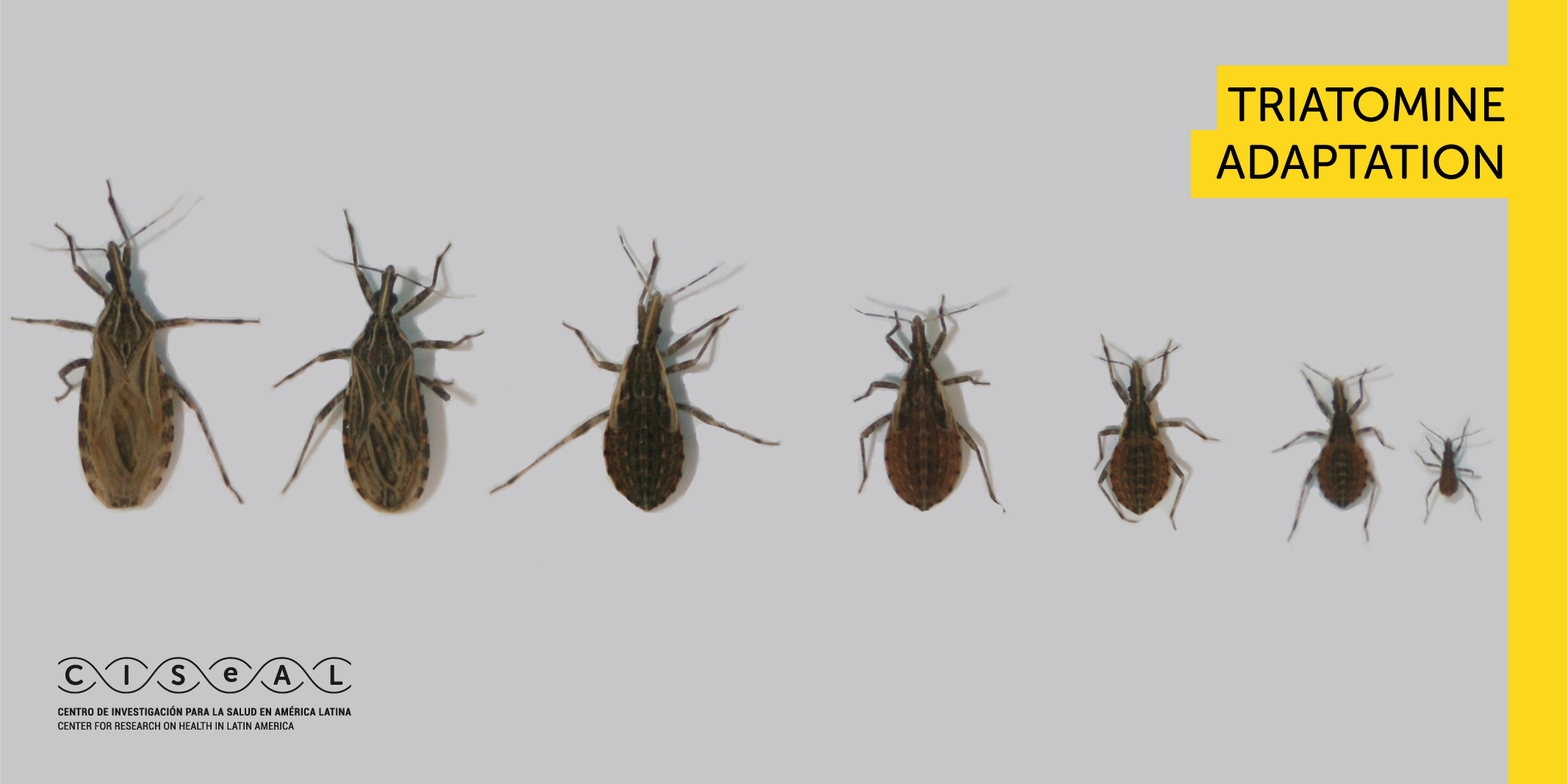 Rhodnius ecuadoriensis collection, available at CISeAL's Insectarium. Credit: Dra. Anita Villacís.
In a first attempt to understand the genomic basis of triatomine adaptation, researchers from Glasgow University and CISeAL - PUCE identified genomic regions that are possibly linked to Chagas disease vectors' adaptation to the built environment.
Triatomines (AKA chinchorros) are the main vector of Chagas Disease in the Latin American region and are responsible for most of the infections in southern Ecuador. Understanding their behavioral patterns has proven to be one of the most efficient ways to control the disease, which affects approximately 7 million people worldwide.
By understanding why these vectors move between communities and which are the natural barriers that they face, authorities can design comprehensive interventions that take into consideration the genomic features that make some vectors more adaptable to a specific environment.
The study "Population genomics and geographic dispersal in Chagas disease vectors: Landscape drivers and evidence of possible adaptation to the domestic setting" examines the dispersal dynamics of triatomines, which provides a unique input for scientists and policymakers who work on the elimination of Chagas disease in Ecuador.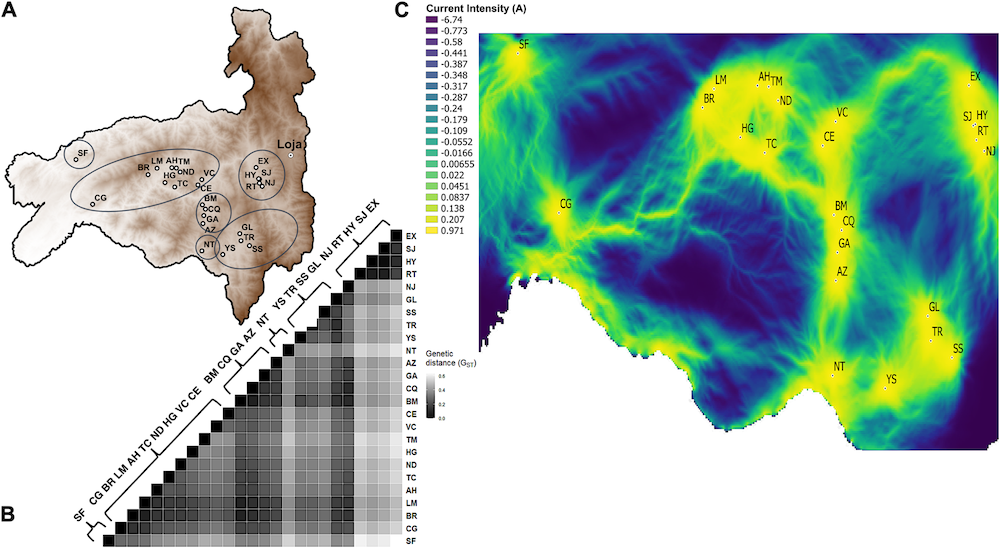 Landscape connectivity of Rhodnius ecuadoriensis in Loja province, Ecuador. More information.
Lead author of the research, Dr. Enrique Hernández-Castro, from the University of Glasgow said: "Our study showed that identification of loci in triatomines associated to possible adaptation to the domestic habitat (e.g., people houses) is possible, which we mapped to genomic regions involved in embryogenesis and saliva production. It has never been shown in natural triatomine populations. In addition, we found elevation is an important factor facilitating or impeding triatomine populations' movement across a given region. This gives the opportunity to produce detailed maps highlighting high and low connectivity areas for triatomine populations which can help with vector control. "
About the methods applied for this research, Dr. Hernández-Castro comments: "We used conventional outlier loci identification, and machine learning (e.g., Random Forest) techniques to identify loci possibly associated to adaptation to people houses. We also used a combination of mixed-effects modeling and machine learning algorithm (e.g., Genetic Algorithm) to objectively predict triatomine dispersal."
The publication is the result of a long-lasting partnership between Glasgow University, PUCE, Ohio University, and other international institutions. The researchers who developed this study are also members of the Vector Borne Disease Control Network (VeConVen), which looks forward to discovering innovative approaches for vector-borne diseases surveillance and control in Venezuela and the surrounding region. The network is funded by the UK government Global Challenges Research Fund (GCRF) that is dedicated to addressing the challenges faced by developing countries.
Read more: https://journals.plos.org/plosgenetics/article?id=10.1371/journal.pgen.1010019
Learn more about our researchers:
Luis E. Hernandez-Castro, Anita G. Villacís, Arne Jacobs, Bachar Cheaib, Casey C. Day, Sofía Ocaña-Mayorga, Cesar A. Yumiseva, Antonella Bacigalupo, Björn Andersson, Louise Matthews, Erin L. Landguth, Jaime A. Costales, Martin S. Llewellyn, Mario J. Grijalva